According to Wikipedia "The bridesmaids are members of the bride's party in a wedding. A bridesmaid is typically a young woman, and often a close friend or relative. She attends to the bride on the day of a wedding or marriage ceremony." But we all know that the bridesmaids are much more than just people who attend a wedding, they are the best friends from childhood, the sisters and cousins, the people who know the bride most and the people who the bride can count in every situation before and after of the big day. Being asked to be a bridesmaid is a huge honour and responsibility. A bridesmaid has to support the bride, share the happiest and most worrying moments, help the newly engaged couple being organised in their roles. We have come up with four Key points to being the best bridesmaid you can be!
#1 Follow her dreams but keep it real
Brides sometimes tend to exaggerate their wishes and try to get things that are either impractical or unrealistic. Whether that be flying doves and butterflies, chocolate fountains, cute ribbons in the church they have to be kept in check for those things that are just too much. As bridesmaid you have to cater for her every need but temper that with some realism. If she is being too fanciful then you must be honest and say, rather than going along with her until she is disappointed later.
#2 Organise an amazing and unforgettable hen party
We believe that this is the event when you have to know the bride the most. Drinking as many shots as you can and dancing with a stripper are not always the most appropriate ideas for everyone. The time is here to put your heads together and find out which could be the perfect last party of her single life. Chill out in a spa for the weekend, or spend a few days in a small village far from everything and everybody, there are so many lovely opportunities to spoil her with. Don't forget girls, the bachelorette party is being organised always for the bride, not for you or the hen party.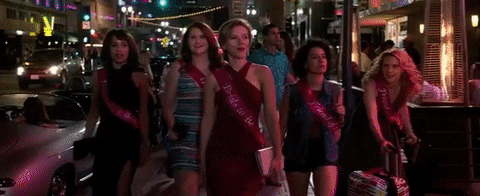 #3 Be the perfect ally in dress shopping
Have a look in her bookmarks and discuss with her what kind of dresses is she looking for. Every bride and every dress are different, take your time to try each dress on and be honest to help her in choosing the right one. As we are on the subject, let`s have a few words about the bridesmaid's dress. According to the big book, bridesmaids are generally expected to pay for their own wedding-day ensemble (not only the dress but also the shoes, the accessories and the hair-makeup styling as well) which are mainly chosen by the bride. Of course, this is not a rule carved in stone, but be prepared to wear the bride's choice of dress and pay for it!
#4 Handle as a princess in her own fairy tale
The real friends always want the best for each other, and it is especially true when your bestie`s wedding day is coming. Pay attention to every detail related to her presence on the big day, and you will do a perfect job as bridesmaid. You can make the whole preparing time more relaxed and wonderful with tiny touches and extras. Cook a dinner or make her a breakfast, because she is going to be stressed to the max in the run up to the big day and might forget to eat properly. Surprise her with a useful pack of cosmetics to keep her skin moisturized and healthy. Set a girly playlist from her favourite songs to make her remember the best moments.
All in all, be as perfect bridesmaid as amazing friend you are and provide your lovely bride plenty of emotional support during the planning and on the wedding day and you can't go wrong!